Anxiety Workshops starting Thursday 20 September - SPACES AVAILABLE
Anxiety Workshops starting Thursday 20 September - SPACES AVAILABLE
18 September 2018 (by admin (admin))
Due to a couple of cancellations, there are some places available on our Anxiety workshops.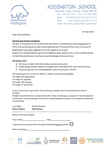 They do start this Thursday, so if you are not able to make the first one, it would be OK to join from the second one onwards. The dates and times are on the attached letter, if you'd like a place, email nicole.wisdom@addington.wokingham.sch.uk
For more information contact Nicole Wisdom, Sharon Coker or Lucy Sayers.